Plantly
For your new plants, your old plants, and the plants you haven't met yet.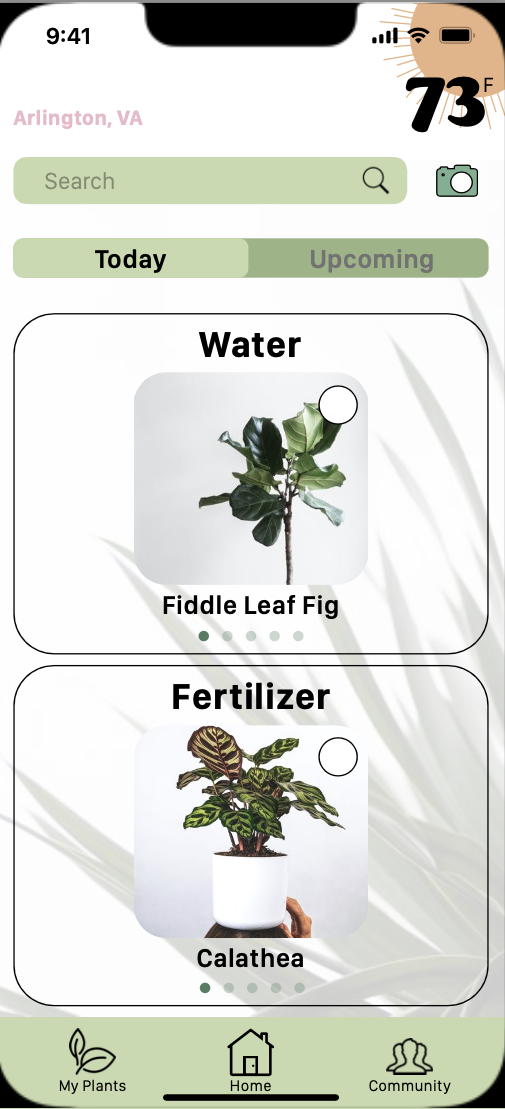 Objective
To assist plant lovers, a growing target market, with one app that'll help them delve deeper into the world of plants and build a community.
Problems
Plant lovers often come across plants that they're interested in but may not know the name or care details about it, wanting to find out quickly.

Plant owners need help keeping track of the watering and fertilizing of their plants, especially when their collection continues to grow.

Plant lovers want to be able to communicate with others about their own plant experiences and gain insights on potential plant problems as well as share plant triumphs.
Solution
Create a system to find information on plants via word search, category search, and picture search.

Design a reminder system that tracks how frequently individual plants should be watered and fertilized.

Create a community/forum for users to communicate with each other and share photos.
Users
Plantly is an app for Plant lovers of all ages and in all regions. It will mostly be used by people ages 22-60 of any gender, focused on Millennials without children based in urban and suburban areas.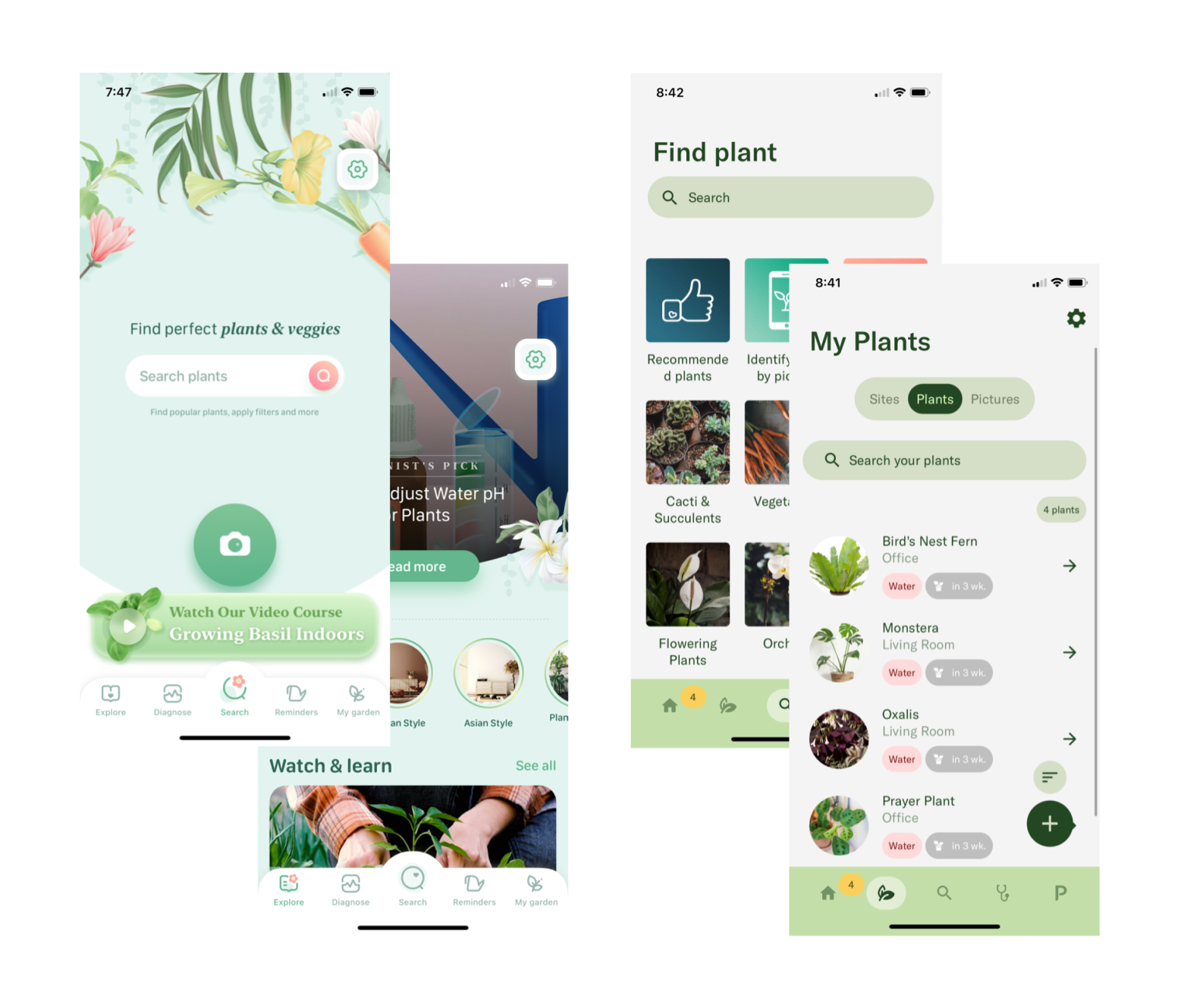 Competitive Analysis
In order to know where to start, I needed to know what was already on the market. I conducted a Competitive Analysis on Blossom and Planta, both apps targeted toward plant lovers but with slightly different offerings. Between the two apps, along with others that I scanned through, I noticed there was an opportunity for a plant app with a clean, light design that allows users to search plants as well as take care of the ones they already have, all while building a plant-lover community.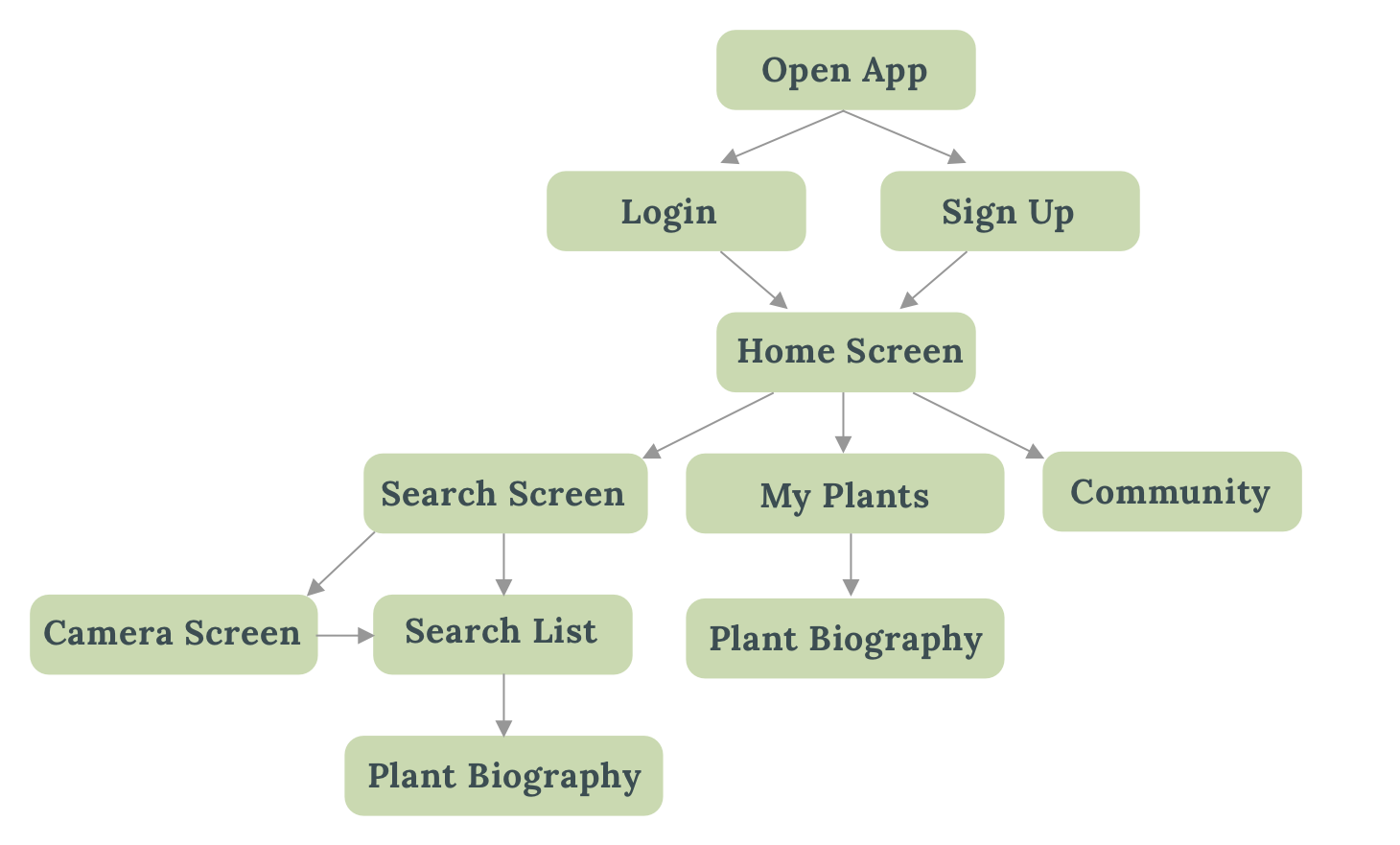 Wireframes
The main hurdle I faced was learning how to design for Android. This is not a platform I've used before and therefore wasn't intuitive to me. I was able to obtain UI kits and research Android apps and Material Design requirements to help me build and then tweak my framework.
UI Design
To enable users to search for a plant in many different situations, I designed a feature to take a picture of the plant in question, which would then tell them the assumed plant name, as well as to search by name or even the type of plant they're looking for. This creates a function for users who want a plant that meets their specific needs and want to be given options.
To help users better manage the care for plants they already own, I designed a home screen that shows them what needs to be watered and fertilized on their current day. These can be quickly scrolled through, as shown by the slider dots beneath the picture, to allow users to see what all may need their attention.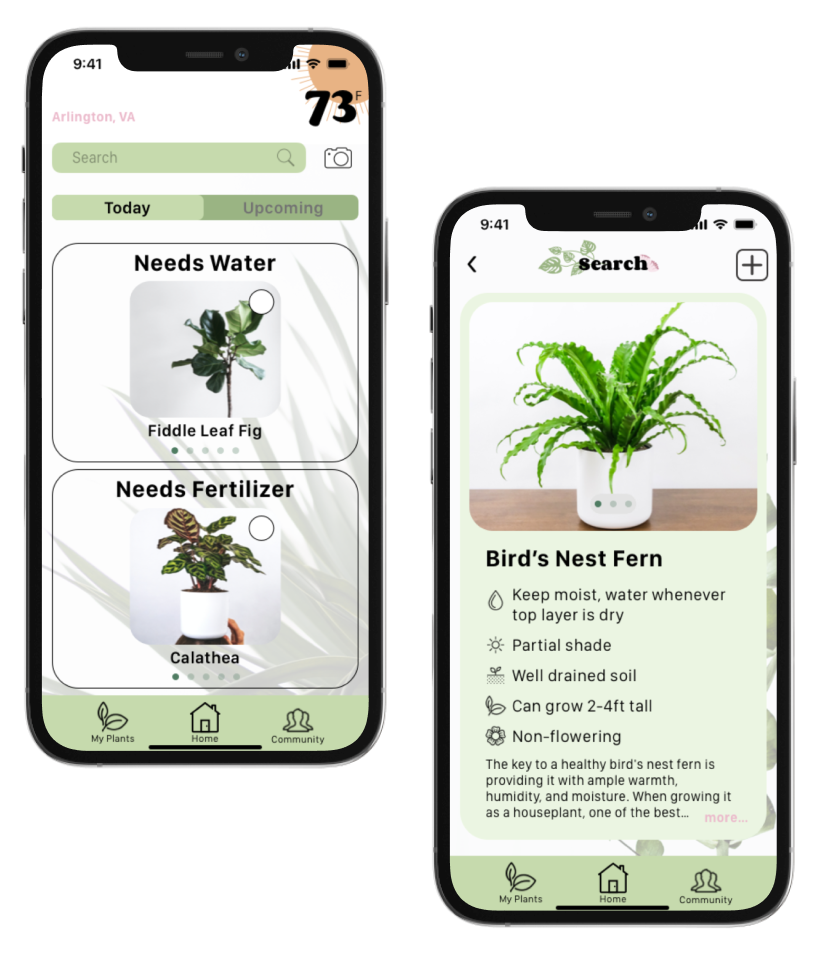 Usability Testing
I was able to test my prototype on 5 people, 3 Apple users and 2 Android users, where I gained fantastic insight and helpful suggestions on the operation and design of Plantly.
For the most part, the feedback consisted of the participants commenting on how easy and clear the app was, but they also gave constructive feedback to better the app design.
Issue 1
Attributes on the Plant Bio were too cluttered.
Solution 1
I replaced the attribute names with icons to make it easier to read and digest, then gave the user the start of further information with the option to see more if interested.
Issue 2
Users didn't understand what the "Water" and "Fertilizer" tabs on the home screen are for.
Solution 2
I changed the wording to read "Needs water" and "Needs fertilizer" to better communicate that the tabs are showing which plants need that function.
Prototypes
Click the button below to be taken to the interactive iOS version of the Plantly prototype.
Click the button below to be taken to the interactive Android version of the Plantly prototype.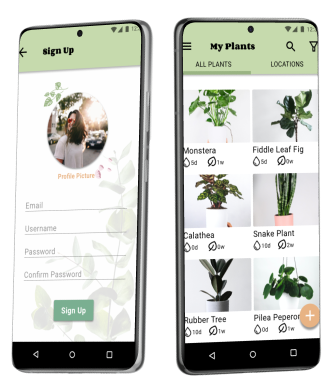 What went well?
Once I read through the iOS and Material guidelines and obtained some UI kits, designing the specific programs became relatively easy, if a little involved. I was also able to maintain a grasp of what style I wanted the app to be throughout the design, with a focus on calm, positive, nature-driven minimalism.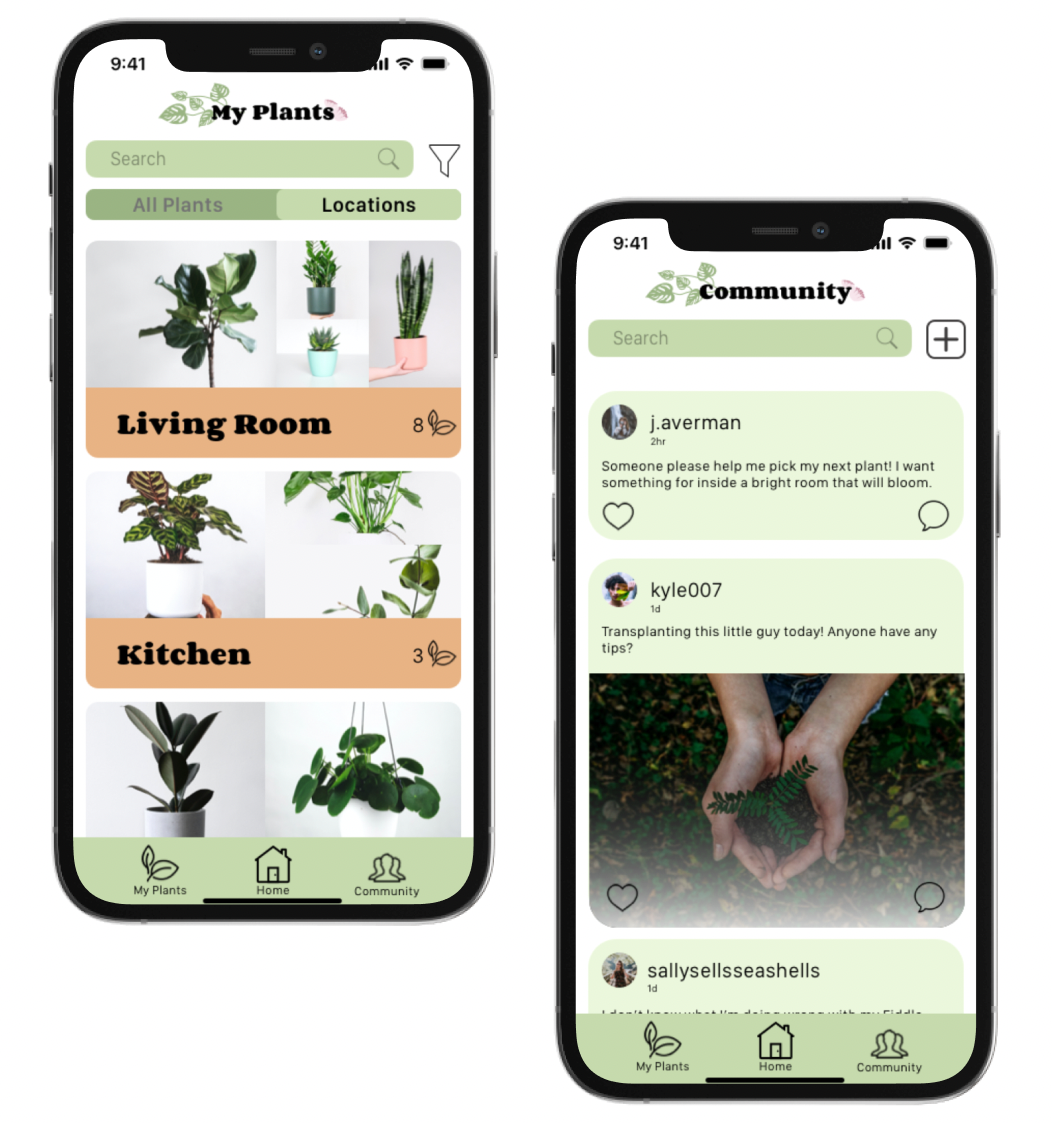 What didn't go well?
My first and largest challenge was having to learn to design for an Android, which I have never owned and rarely ever used. By reaching out to my Tutor and reading through the Material Design Guide as well as doing further research, I was able to learn typical design elements and create a design that would fit on an Android screen. My subsequent challenges were based more on specifics of the design, such as how best to communicate the information I wanted the app to, and this was solved by further research and delving into Dribbble for ideas.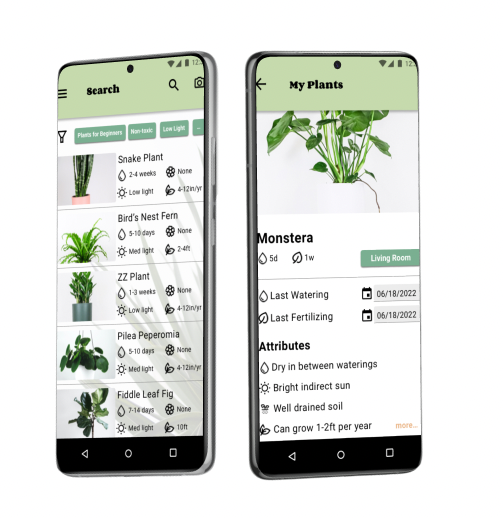 What would I do differently?
In a second iteration, I would include viewable user profiles, direct messaging, and a plant diagnosing feature so users can more easily determine what might be wrong with their plant and help cure it.
I also plan to practice more designs using Material Design in order to improve my knowledge, speed, and styles.
Thank you for reading my case study!
Want to work with me or say hello? Feel free to contact me here!